Episodes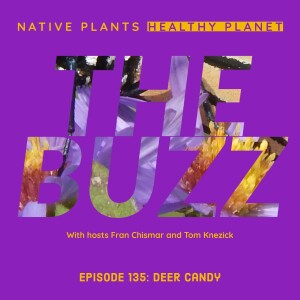 Friday Dec 09, 2022
Friday Dec 09, 2022
Hosts Fran Chismar and Tom Knezick are back with a brand new episode of The Buzz.  Will Tom finally get to go on vacation - find out before "Grow Read A Book."  We have a new "That's Hot" this week.  "This or That" looks at native recipes and a farmer's take on Common Milkweed.   "Take it or Leaf it" highlights a presidential tradition.  Are you listening all the way to the end for our secrets? There is new merch!  Music by RJ Comer. 
Read Fran's Article / Read Tom's Article
Have a question or a comment?  Call (215) 346-6189.
Follow Native Plants Healthy Planet - Website / Instagram / Facebook / YouTube  
Follow Fran Chismar Here.
Visit https://www.magicmind.co/nativeplants and get 40% off your subscription for the next 10 days with our code NATIVEPLANTS20 or 20% off your single purchase. Hurry Now! 
Buy a T-shirt, spread the message, and do some good.  Visit Here.